Tromsø
Adult Price from
1200 NOK per

This winter activity takes travellers along Norwegian fjords near Tromso. Together we'll explore mountains, valleys, fjords, beaches and Norwegian villages. During this activity we encourage you to relax and enjoy a peaceful journey through the Norwegian countryside. The wildlife we often spot is reindeer, eagles, sea otters and maybe even a moose! Your guide will assist you with your camera, if needed and will be taking photos of the fjord sightseeing activity. These photos will be shared after the fjord tour in web sized resolution. After enjoying your included home-made lunch and hot chocolate we'll return you to Tromso.
Season: 15th September - 30th April
Duration: 4 - 5 hours
Group size: 3 - 8 pax
Minimum age: 2 years old (can accept younger children, however parents must bring car seat & meal)
Meeting time: 09:50 in front of the Scandic Ishavhotel
Departure: 10:00
Return: Drop off in front of the Scandic Ishavhotel.
Inclusions: Homemade sandwich with locally sourced ingredients, biscuits & hot chocolate, tripods, photos of the tour in web-sized resolution.
Safety considerations: The tour involves some walking; the conditions may be icey, slippery, uneven, muddy, snowy or otherwise. Please wear appropriate footwear and clothing.
Additional Safety Considerations relevant for winter season 2020/21:
Wandering Owl has a duty of care to protect the health and safety of our team, our guests and to do our part are responsible community members. For this reason we have implemented the following standards in all our tours. Please read them before booking, by providing payment you have confirmed that you agree and understand these standards.
For more information please see this post: Planning your Aurora Holiday during COVID-19.

After booking: After you book this activity you will be sent an immediate email with a link, this link contains some important questions regarding food preferences, equipment, allergies, contact details, and other important information we need from you in order to provide the best possible service for you. We ask that you complete the questions on the link as soon as you can, please allow about 5 - 10 minutes to complete this.
Taxes
Transport Tax - AL
3.5 % ( Price Inclusive )
Food Tax - AL
0.4 % ( Price Inclusive )
Tags
SUITABILITY:Day Time, AGE:Adult, INTEREST:Ecotourism, AGE:Teenager, AGE:Infant, AGE:Senior, INTENSITY:Relaxed, INTEREST:Sightseeing, CATEGORY:Sightseeing, SKILL_LEVEL:Beginner, AGE:Child, INTEREST:Cultural, TYPE:Tour
Flexible rebooking & cancellation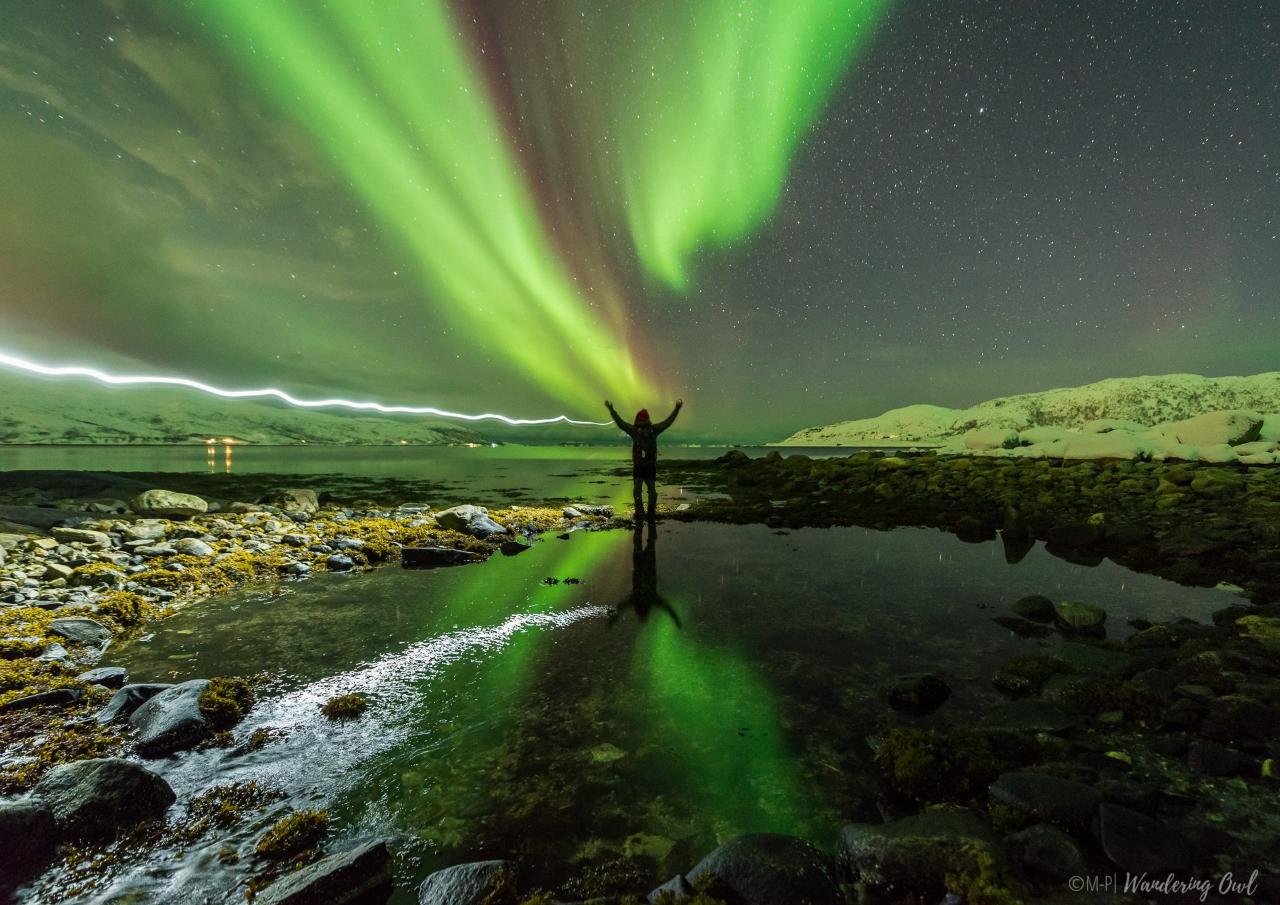 300 NOK
- Get 24hrs free cancellation or booking changes. - Any changes you wish to make to your booking must be submitted in writing at least 25hrs or more from the departure time. - Rebooking is always pending our availability on the date you wish to rebook for. We can not guarantee availability if you need to rebook. - This add on is only valid if purchased 15 days or more before the first departure time. - This product is non refundable. - This product is only valid for one tour - See full terms and conditions before purchase.
Terms
Always travel with travel insurance, please read the terms and conditions before booking. See terms and conditions here: https://www.wanderingowl.com/terms-conditions/ This must be displayed according to Norwegian taxation law: This tour (product) consists of three components: Component 1: Transportation 33% of the tour (component taxed at 12%) Component 2: Food 4% of the tour (component taxed at 15%) Component 3: Guiding 64% of the tour (component taxed at 0%) There is a non - refundable booking handling and labour fee of 200 nok per booking.