Tromsø
Adult Price from
1250 NOK per
Norway is known for its beautiful fjords where the mountains meet the sea - and we'd like to keep it this way! Come with us for a road-trip like no other. You'll discover places with amazing scenery, admire arctic wilderness and take memorable shots. You'll also experience & participate in our citizen science micro-plastic project, where you'll have the opportunity to collect micro plastics from our stunning beaches. Following our validated methodology, you'll be provided much needed data to help fight against ocean plastics. After the collection, that data is uploaded to our research partners database, where they'll use it in their research that will help inform policy making.
After our science contribution is done, we can lay back & enjoy the home-made lunch we have prepared for you. This the most ethical trip for you to experience the extraordinary nature of Northern Norway. Explore different locations on the islands to see the fjords, mountains, beaches, lakes, forests and small villages in the Norwegian countryside. On this trip you will get to beautiful places to take photos, relax in a peaceful atmosphere and enjoy the views and sounds of nature, and if we are lucky, we can even see some wildlife! "Life is like a box of chocolates, you never know what you're gonna get." – Forrest Gump – Let Wandering Owl & Wild Lab Projects surprise you. We can pick you up and drop you off at the harbour or in the city centre, so you can combine this tour with a city walk on your own if you wish. Pick up times at the cruise ship dock* (Breivika Havn, pier 24-25): 10:45 AM or 12:45 PM depending on the date. Pick up times in front of Scandic Ishavshotel: 11:00, 13:00 or 15:00 depending on the date. *Please note that some of the cruise ships dock at peer 7-8 in the city centre, right next to the Tourist Information Office & only 200m to our pick up point.
Season: 1st July - 30th August
Duration: 5 hours
Group size: 3 - 8 pax
Minimum age: 2 years old
Meeting time: Usually 11:00
Meeting location: In front of the Scandic Ishavhotel
Return: Approximately 15:00
Inclusions: Photos of the activity in web-sized resolution, a guide to safely show you the way, the citizen science methods, light meal, homemade snacks & hot chocolate, all equipment needed for the micro plastic project & it's reporting.
Safety considerations: The tour involves walking; the conditions may be icy, slippery, uneven, muddy, a bit snowy, hot, humid, windy or otherwise. The temperatures may be cold and windy please ensure you are wearing appropriate clothing and have ample water for the activity. Wandering Owl has appropriate liability insurances, but please ensure you have your own medical and travel insurance, just as you would normally have.
Taxes
Transport Tax - AL
3.5 % ( Price Inclusive )
Food Tax - AL
0.4 % ( Price Inclusive )
Tags
Flexible rebooking & cancellation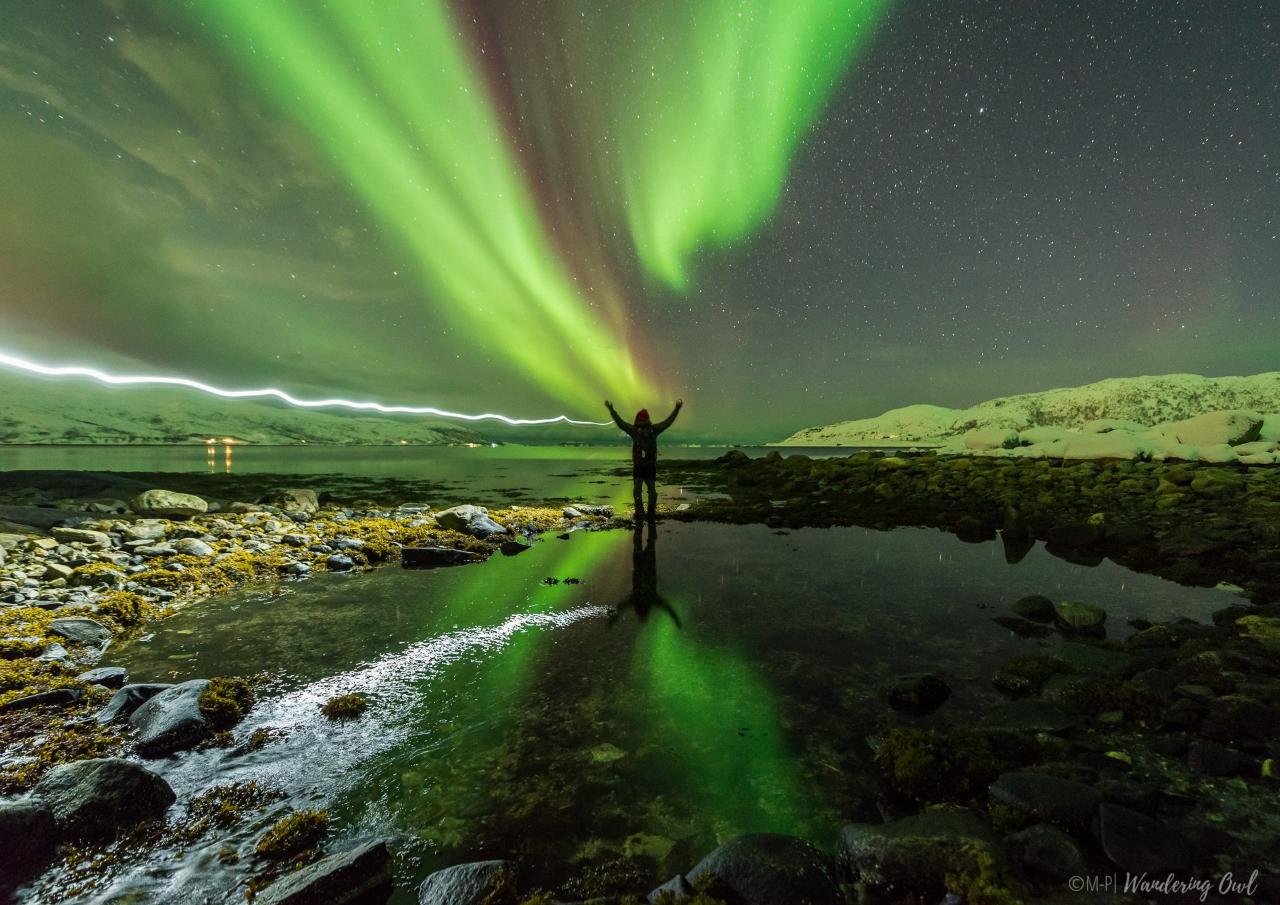 Child seat needed
0 NOK
Terms
Always travel with travel insurance, please read the terms and conditions before booking. See terms and conditions here: https://www.wanderingowl.com/terms-conditions/ This must be displayed according to Norwegian taxation law: This tour (product) consists of three components: Component 1: Transportation 33% of the tour (component taxed at 12%) Component 2: Food 3% of the tour (component taxed at 15%) Component 3: Guiding 64% of the tour (component taxed at 0%) There is a non - refundable booking handling and labour fee of 200nok per booking.