Senja
Adult Price from
1200 NOK per
Wilderness is just around the corner! Take a closer look at Norwegian summer landscapes as you hike through the local wilderness. This hiking activity brings travellers into the summer landscape. Experience the best heart-stopping views of Norwegian islands, valleys and mountains. During your hike activity through the northern Norwegian landscape we'll find the best place to enjoy your home-made meal. Relax and keep a look out for reindeer, eagles, ptarmigans, hares and other wildlife. Don't forget to look down at the ground where you'll be able to see seasonal berries growing in the wild. This summer hiking activity is the best way to explore northern Norway. This local hike does not include transportation to the hiking location.

Season: 1st July - 30th August
Duration: 5 hours
Group size: 3 - 8 pax
Minimum age: 6 years old (please assess your child's comfort & safety for this activity)
Meeting time: 11:00 / 13:00 / 15:00 / 20:00
Meeting location: Please meet the guide at the arranged starting point. This will be arranged via email after the booking. If you have a desired trial in mind, let us know and we can try to arrange this.
Return: Approximately 3 - 5 hours later
Inclusions: Photos of the tour in web-sized resolution, a guide to safely show you the way, light meal, homemade snacks & hot chocolate


Safety considerations: The tour involves hiking; the conditions may be icy, slippery, uneven, muddy, a bit snowy, hot, humid, windy or otherwise. The temperatures may be cold and windy please ensure you are wearing appropriate clothing and have ample water for the activity. Wandering Owl has appropriate liability insurances, but please ensure you have your own medical and travel insurance, just as you would normally have.
Taxes
Food Tax - TWWS
0.5 % ( Price Inclusive )
Transport Tax (not provided)
Tags
CATEGORY:Hiking & Trekking, SUITABILITY:Day Time, AGE:Adult, SUITABILITY:Family, INTEREST:Ecotourism, AGE:Teenager, INTEREST:Sightseeing, INTENSITY:Active, SUITABILITY:Night Time, SKILL_LEVEL:Beginner, AGE:Child, INTEREST:Family, TYPE:Tour
Flexible rebooking & cancellation -18hrs before the departure time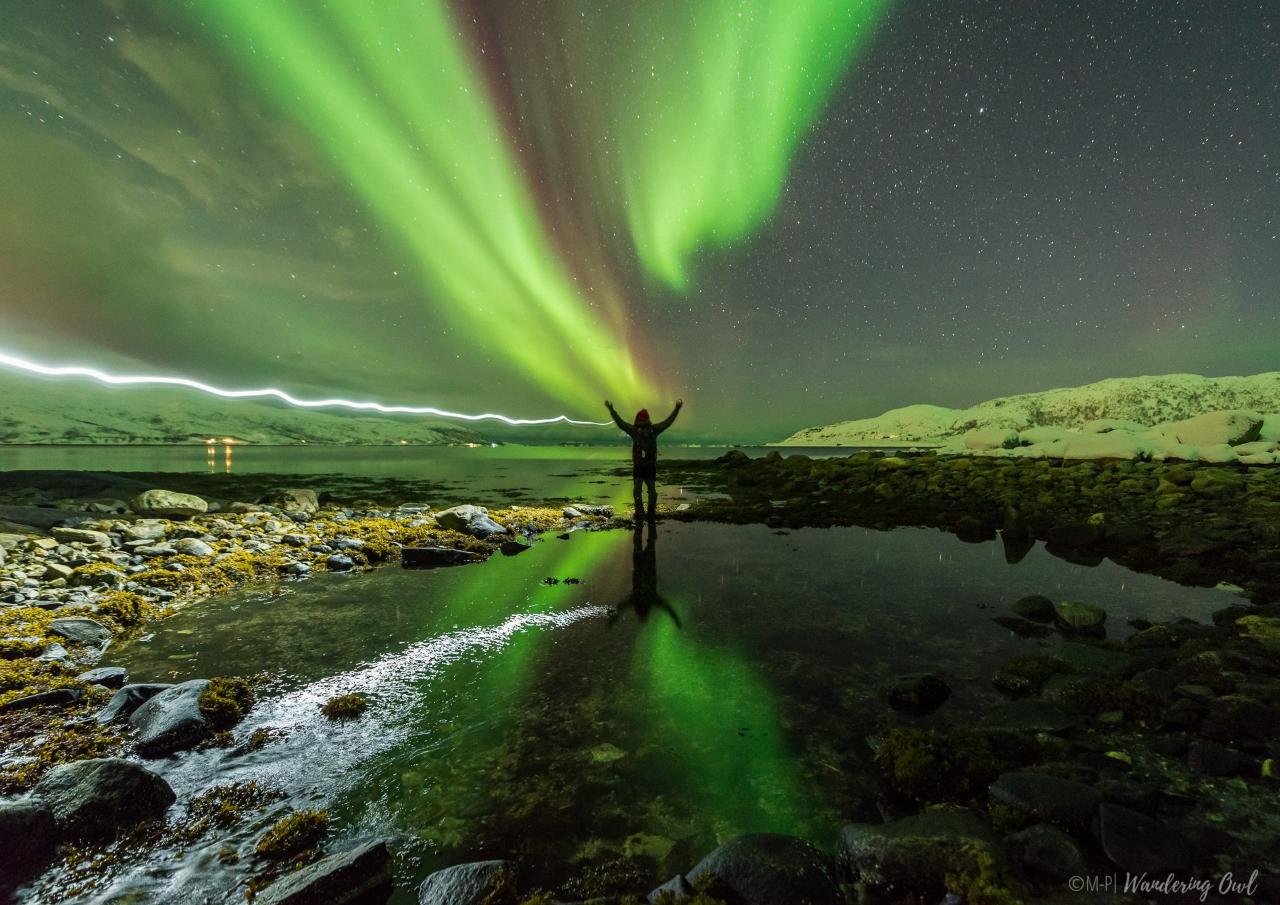 600 NOK
- Get 18hrs free cancellation or booking changes. - Any changes you wish to make to your booking must be submitted in writing at least 18hrs or more from the departure time. - Rebooking is always pending our availability on the date you wish to rebook for. We can not guarantee availability if you need to rebook. - This add on is only valid if purchased 15 days or more before the first departure time. - This product is non refundable. - This product is only valid for one tour - please indicate which tour you would like it to be applicable for. - Our regular cancelation policy is 24hrs. This policy gives you an additional 6hrs of flexibility. - See full terms and conditions before purchase.
Terms
Always travel with travel insurance, please read the terms and conditions before booking. See terms and conditions here: https://www.wanderingowl.com/terms-conditions/ This must be displayed according to Norwegian taxation law: This tour (product) consists of three components: Component 1: Transportation 0% of the tour (component taxed at 12%) Component 2: Food 4% of the tour (component taxed at 15%) Component 3: Guiding 96% % (component taxed at 0%) There is a non - refundable booking handling and labour fee of 200 nok per booking.