TROMSØ
Adult Price from
1100 NOK per
This summer activity offers a unique hiking experience in the light of the midnight sun. Haven't you ever wished to see the sun that never sets? How about gazing at majestic sceneries of mountains and fjords from a viewpoint? Up here you can have both. Come and take a walk with us in the light of the arctic summer night and experience nature a little bit closer. Wilderness is just around the corner! If you think laying back to watch the midnight sun is not fun enough for you... If you feel like exploring a little bit further, coming closer to nature and being rewarded by an amazing view from a height, this may just be the midnight sun activity that you are looking for. On this easy hike up a small mountain you will be able to shake the dust off your shoulders, breathe in fresh air and be amazed by what these Norwegian landscapes have to offer... all this in the warm colours of a never-ending sunset.

Please be aware of the following before your tour with us:
- We can only see the detailed forecast 30 hrs in advance, we would only consider it to be trustworthy 12hrs in advance. It is updated about every 4 hrs and changes often.
- The environmental conditions in Tromsø do not reflect the other many other region microclimates
- If there is not enough snow we will go on a hike without snowshoes
- Please travel with travel insurance. The environmental conditions in the Arctic can be wild and ever changing, flights are often cancelled or delayed. To avoid financial losses and disappointment please have insurance and plan your travel wisely.
- If you are not at the pick up at the departure time, we have no choice but to depart without you. No refunds or rebooking is on offer free of charge.
Taxes
Transport Tax - TWWS
2.7 % ( Price Inclusive )
Food Tax - TWWS
0.5 % ( Price Inclusive )
Tags
Flexible rebooking & cancellation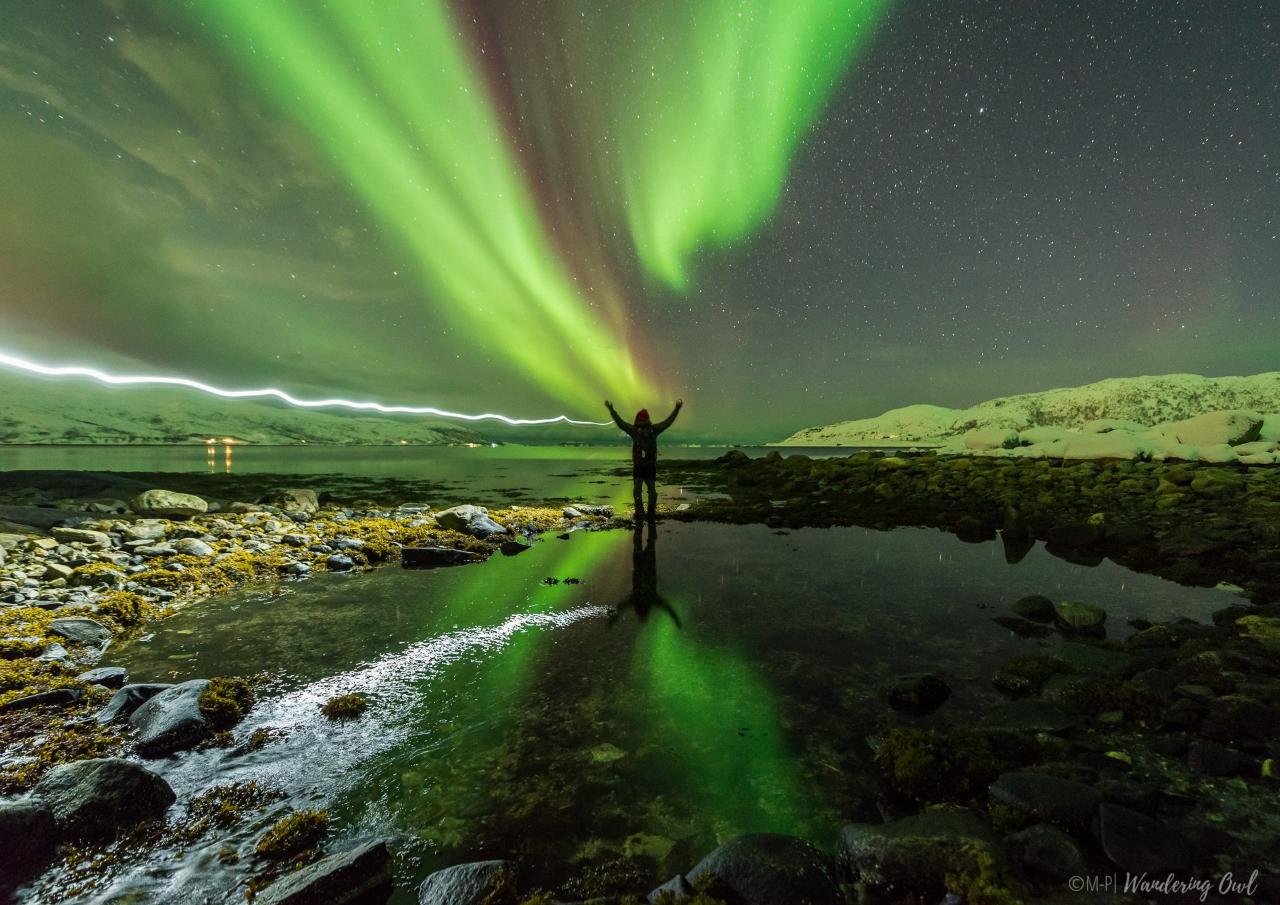 300 NOK
- Get 24hrs free cancellation or booking changes. - Any changes you wish to make to your booking must be submitted in writing at least 25hrs or more from the departure time. - Rebooking is always pending our availability on the date you wish to rebook for. We can not guarantee availability if you need to rebook. - This add on is only valid if purchased 15 days or more before the first departure time. - This product is non refundable. - This product is only valid for one tour - See full terms and conditions before purchase.
Terms
Always travel with travel insurance, please read the terms and conditions before booking. See terms and conditions here: https://www.wanderingowl.com/terms-conditions/ This must be displayed according to Norwegian taxation law: This tour (product) consists of three components: Component 1: Transportation 25% of the tour (component taxed at 12%) Component 2: Food 4% of the tour (component taxed at 15%) Component 3: Guiding 71% of the tour (component taxed at 0%) There is a non - refundable booking handling and labour fee of 200nok per booking.