TROMSØ
Adult Price from
1100 NOK per
Norway is known for its beautiful fjords where the mountains meet the sea. Come on a road-trip to discover places with amazing scenery, admire arctic wilderness and take memorable shots. Then lay back and enjoy the home-made lunch we have prepared for you.This is a trip for you to experience the extraordinary nature of Northern Norway. Explore different locations on the islands to see the fjords, mountains, beaches, lakes, forests and small villages in the Norwegian countryside. On this trip you will get to beautiful places to take photos, relax in a peaceful atmosphere and enjoy the views and sounds of nature, and if we are lucky, we can even see some wildlife! "Life is like a box of chocolates, you never know what you're gonna get." – Forrest Gump – Let Wandering Owl surprise you. We can pick you up and drop you off at the harbour or in the city centre, so you can combine this tour with a city walk on your own if you wish. Pick up times at the cruise ship dock* (Breivika Havn, pier 24-25): 10:45 AM or 12:45 PM depending on the date. Pick up times in front of Scandic Ishavshotel. 11:00, 13:00 or 15:00 depending on the date. *Please note that some of the cruise ships dock at peer 7-8 in the city centre, right next to the Tourist Information Office.

Please be aware of the following before your tour with us:
- We can only see the detailed forecast 30 hrs in advance, we would only consider it to be trustworthy 12hrs in advance. It is updated about every 4 hrs and changes often.
- The environmental conditions in Tromsø do not reflect the other many other region microclimates
- Please travel with travel insurance. The environmental conditions in the Arctic can be wild and ever changing, flights are often cancelled or delayed. To avoid financial losses and disappointment please have insurance and plan your travel wisely.
- If you are not at the pick up at the departure time, we have no choice but to depart without you. No refunds or rebooking is on offer free of charge.

We have sweetened the deal and thrown in a copy of our latest Destination Guide, for free!
Taxes
Transport Tax - AL
3.5 % ( Price Inclusive )
Food Tax - AL
0.4 % ( Price Inclusive )
Tags
Flexible rebooking & cancellation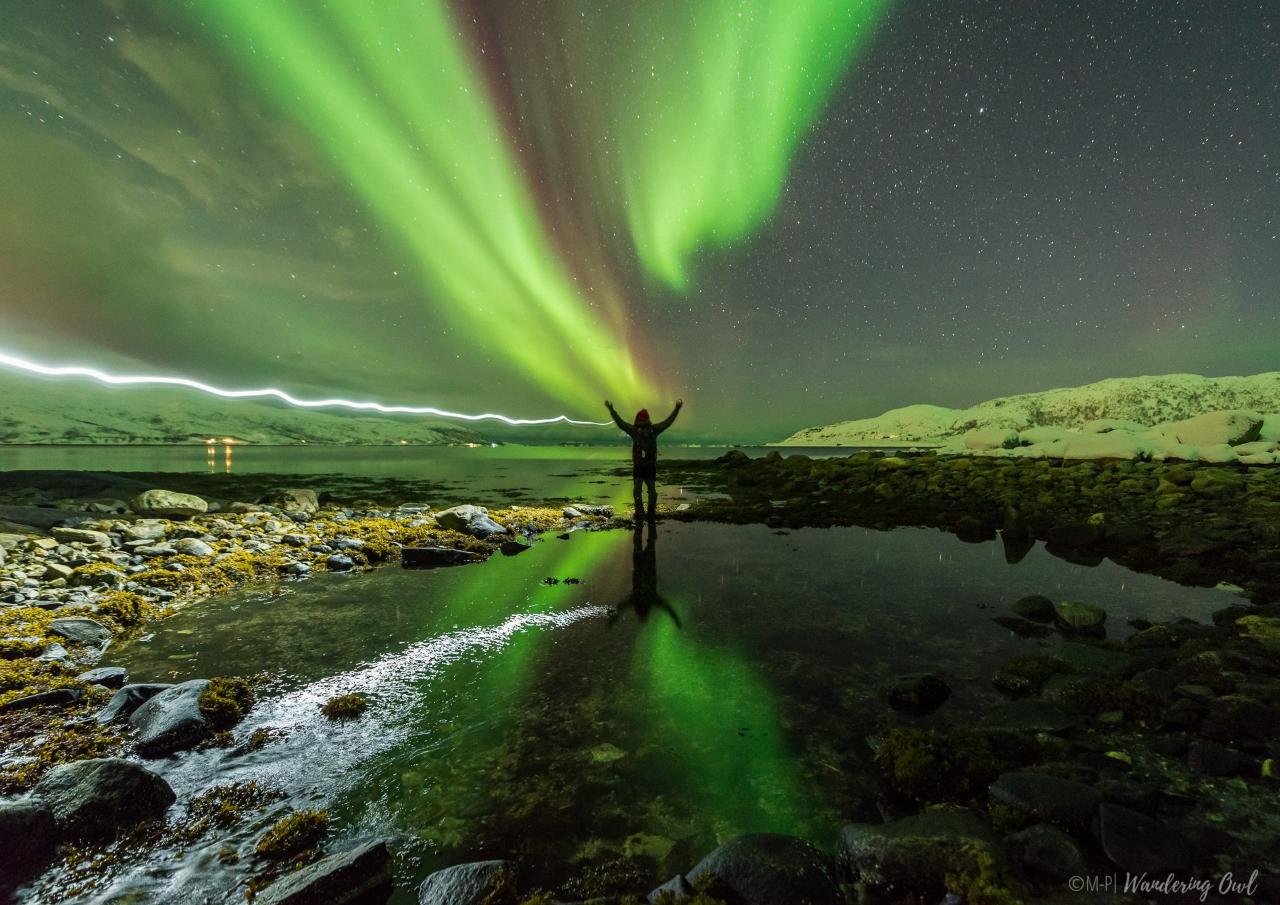 300 NOK
- Get 24hrs free cancellation or booking changes. - Any changes you wish to make to your booking must be submitted in writing at least 25hrs or more from the departure time. - Rebooking is always pending our availability on the date you wish to rebook for. We can not guarantee availability if you need to rebook. - This add on is only valid if purchased 15 days or more before the first departure time. - This product is non refundable. - This product is only valid for one tour - See full terms and conditions before purchase.
Terms
Always travel with travel insurance, please read the terms and conditions before booking. See terms and conditions here: https://www.wanderingowl.com/terms-conditions/ This must be displayed according to Norwegian taxation law: This tour (product) consists of three components: Component 1: Transportation 33% of the tour (component taxed at 12%) Component 2: Food 3% of the tour (component taxed at 15%) Component 3: Guiding 64% of the tour (component taxed at 0%) There is a non - refundable booking handling and labour fee of 200nok per booking.