Tromsø
Quantity Price from
11000 NOK per
The fight against ocean plastics is ongoing. Join us as we collect value data that directly contributes to policy making in commercial fishing regulations across the Nordics & EU/EEA. This project is more than a beach clean up. This immense task involves taking samples of micro-plastics, removing other litter & documenting what is found & where. Because we go by boat, we'll target beaches that are otherwise inaccessible. To ensure the validity of the data collected, we will follow the strict scientific methods developed by our research partners. During this project you will learn the methods we are following, you will be able to work independently & you will be able to see your measurable contribution to the fight against ocean plastics.
The data collected throughout the project will be used by our research partners in their ongoing study of ocean plastics, micro plastics, & their origin.
Why is this project so important?
Approximately 10 million tons of litter end up in the world's seas and oceans every year1 while the planet's municipal solid waste is predicted to double within 15 years. We have all read these statistics and predictions. We have all seen Chris Jordan's photos of bird carcasses filled with rubbish and read reports of stranded whales full of plastic bags. As remote and pristine as it might seem, the Arctic Ocean, and with it the Arctic coastline, is equally affected: in a study conducted in Svalbard, nearly 90% of fulmars had plastics in their stomach3 and in Norway alone, volunteers removed 1400 tons of marine litter from the coastline in 2020, mostly plastic.
Given the global magnitude, the volume and the omnipresence of litter in our oceans, cleaning up a few beaches might look like a desperate move. It is not. Analysing the items that are collected brings valuable information. For one, it provides a better understanding of the sources of- and reasons behind litter ending up on the seashores. Ultimately, it facilitates dialogue with stakeholders to identify possible intervention points to prevent litter from entering the oceans.
By participating in our project, your holiday in Northern Norway will contribute to important science on many different fronts & you will be leaving a positive impact behind on local ecosystems & the local community.
What will you experience?
- Contribute to solving the problem of beach litter & restore nature
- Have fun in a small group of eco-volunteers, meet & spend time with people who have similar interests
- Spend time in & experience nature & explore Norwegian wilderness​
- Learn new things & skills​
- Participate in a meaningful action, get a sense of purpose and achievement​
- Take part in a research project & become a citizen scientist
- Learn about the Deep Dive method, which you could replicate in your home country
What are the goals of the project?
- Increase awareness among the participants & generate interest in marine litter as an environmental problem
- Offer travellers alternatives that benefit science & nature conservation​
- Generate more data & knowledge to help solve the problem of beach litter
- Encourage the participants to start similar cleanup missions elsewhere
- Promote networking & join existing forces
- Cooperate with local municipalities, involve locals​
- Partner with local teachers​ & schools
- Collaborate with researchers & developers to help fine-tune the Deep Dive method
- Clean up the shoreline & reduce the risks that poses litter to local wildlife
What's the project plan?
This project goes for 7 nights & 8 days. The project it's self will take place in Senja.
Day 1: Meet at the harbour in Tromsø where we'll have lunch together & go through the safety briefing. Afterwards, we'll clarify the plan for the following days. This briefing will provide you with all the information you need for the coming days, including safety equipment, our protocols, meeting places & times. We'll give you a thorough introduction to the boat, the methods & what our goals are for the week together.
We'll then get underway & set sail to our destination. This will give you an opportunity to get oriented with sailing. We will happily have your involvement in sailing & love to show you our passion. When we arrive to our spot for the night, we'll prepare & eat dinner together. If the conditions are favourable, we can go ashore & have a small beach fire together in our portable fire pit.
Days 2: We'll have breakfast together before we hit the beach. We will put the methods into action & remove the marine litter. Depending on your skills & interests, we'll be on foot, or even free diving. We'll warm up at lunch with a hot meal around our fire bowl before we get back to it. In the afternoons we'll process & submit the data. If the conditions allow it, we'll go for scenic hikes or short sails around our local area. We'll also have lectures & presentations on local ecology & the global problem of marine litter as well as our other projects.
Day 3: We'll have an early breakfast together before we sail to our sorting location. Once on location, we'll sort & document the oceans litter. The process will be thoroughly documented & data will be uploaded for our research partners to access. That night we'll go for a sauna to relax after all our hard work & adventures. Afterwards, we'll have a final meal together & spend the night in the harbour.
Day 4: After our early breakfast together, we'll disembark the vessel. With a heavy heart, we'll say our good byes (for now) & in the coming days, we'll share photographs of our time together with you. We'll cherish these memories! You'll then have access to our project pages where we'll post updates about the project, so you can see how your involvement has contributed measurably in the fight against ocean plastics!
Details about this project
Season: spring, summer, & autumn
Duration: 4 days
Group size: 3 - 6 adults
Minimum age: 16 years old (please assess your teenagers's interest for this activity, as all participants are required to contribute for the entirety of the project)
Meeting time: 09:50 in front of the Scandic Ishavhotel
Departure: 10:00
Return: Tromsø Harbour
Inclusions: All equipment needed, meals, snacks, tea, coffee & hot chocolate, tripods, photos of the project in web-sized resolution. We also include a project hoodie, t-shirt & cup for you to use while you are here with us & to take home as a keep sake. We also include evening hiking, dinner around the campfire, scientific presentations, and can add optional fun dives for certified divers (additional costs apply).
Safety considerations: This project involves walking, being in/on cold water, handling litter that might be sharp or have contaminants, handling tools, carrying equipment on challenging terrain. The conditions and terrain may be icy, slippery, uneven, muddy, snowy, sandy or otherwise. The temperatures may be cold & will likely be windy & rainy at times so please ensure you are wearing appropriate clothing. Ask us for information & clarification about what is considered appropriate so we can ensure you are properly prepared.
Important information you need to know before booking: This activity is not a private activity. You may be sharing cabins & with other participants. Because this project is focused on giving a net positive impact on the local community, our chosen vessel, meal ingredients & equipment has been specifically selected because it meets our needs & doesn't unnecessarily increase our impact. The vessel & meal preparation areas will meet all health & safety requirements, but may not be the most comfortable or aesthetically pleasing. If you require modern comforts, please contact our offices and we'll see if we can find something to meet your needs but does not undermine the positive impact and goals of the project.
The pictures here may not necessarily represent the vessel or the location, depending on the conditions & the charter vessel company's availability.

Here are some links to important information about the project to help you understand our project better.
Souvenir package worth NOK650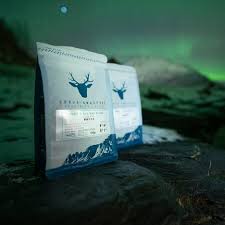 599 NOK
Includes a Wandering Owl Adventure Cup, a bag of locally roasted coffee, 5 postcards & an artistic map of beautiful Tromsø